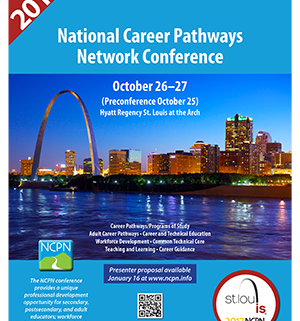 "Career Pathways: Gateway to the Future"
The 2017 conference will be held in St. Louis at the beautiful Hyatt Regency at the Arch. All sessions will take place in the hotel. The main conference will be Thursday and Friday, October 26–27. Conference strands will be based on the Ten Components of a Program of Study and Career Pathways Toolkit: An Enhanced Guide and Workbook for System Development. Preconference workshops (Wednesday, October 25) will address topics such as Career Pathways Leadership Certification, Employer-Education Partnerships, and Counseling.
The conference will focus on Career Pathways implementation at the state and local levels. The conference's 1000+ attendees will consist of a broad cross-section of stakeholders comprising secondary and postsecondary educators, workforce development professionals, and employers.
We are excited to be hosting the conference in St. Louis for the first time. The city's iconic 630-ft. Gateway Arch, built in the 1960s, honors the early 19th-century explorations of Lewis and Clark and America's westward expansion in general. Very appropriate as career pathways expands to include more and more stakeholders.
There's plenty to do including mueseums, cultural venues, restaurants, and cafes. Shopping includes St. Louis Union Station which was once the largest and busiest passenger rail terminal in the world. Today it has been repurposed as a lively mixed-use marketplace with more than 85 retail stores and restaurants. Attractions include the St. Louis Walk of Fame on Delmar Boulevard and Cahokia Mounds State Historic Site. Remains of the largest and most sophisticated prehistoric city north of Mexico are yours to explore at this site.
The NCPN conference is one of the best professional development opportunities in the country, offering 130+ breakouts, a variety of preconference workshops, keynote speakers, networking opportunities, and an exhibit hall showcasing the latest products and services in career technical education. We hope you'll make plans to attend!