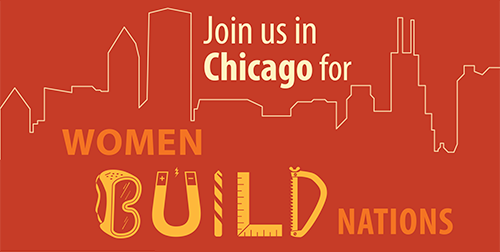 WOMEN BUILD NATIONS returns to Chicago, in the heart of the south loop's historic McCormick Place neighborhood – minutes from the vibrant downtown scene. With over 1,000 rooms reserved, an extended vendor hall area and meeting space connected to the largest convention center in North America, this conference promises to be the largest ever convening of tradeswomen and their allies.
WOMEN BUILD NATIONS is for women of all ages and all skill levels who work, or aspire to work, in the construction trades. Whether you are a pre-apprentice or a seasoned journeyperson, this conference provides a unique opportunity to learn from and connect with tradeswomen from around the country and the world.
WOMEN BUILD NATIONS speaks to every tradeswoman's needs, offering workshops and plenary sessions facilitated by tradeswomen and featuring union leaders, apprenticeship coordinators, contractors and elected officials. Workshop tracks include, but are not limited to, Recruitment & Retention; Leadership Development; Policy/Politics and Beyond the Tools.