http://mtwc.org/wp-content/uploads/2016/11/Indiana-NICE-Students-Survey2.png
630
1500
Kerri Phillips
http://mtwc.engr.wisc.edu/wp-content/uploads/2016/11/MTWC-Website-Header-Logo.png
Kerri Phillips
2016-11-12 17:15:55
2017-03-21 22:25:36
National Apprenticeship Week Events in the Midwest

Saint Louis University's Summer Transportation Institute is a non-residential camp for students from high schools in the St. Louis metropolitan area featuring a series of field trips, activities, games, and lectures.
Experiential learning is central to the institute's curriculum. The camp provides opportunities for students to collaborate. "They learn the value of collaboration through hands-on activities, rather than hearing it from us," said Kianfar. "We want them to see that they can solve real-world problems. They learn they have the ability and background to become engineers."
http://mtwc.org/wp-content/uploads/2016/11/SLUSTI1_B.png
630
1500
Kerri Phillips
http://mtwc.engr.wisc.edu/wp-content/uploads/2016/11/MTWC-Website-Header-Logo.png
Kerri Phillips
2016-10-26 13:24:46
2016-12-15 19:06:40
Engineering Community Involvement and Hands-On Activities Are Key Strengths of SLU's Summer Transportation Institute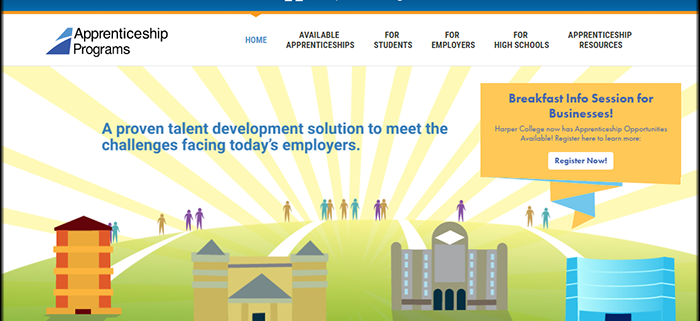 Apprenticeship is a proven talent development strategy that answers the skills gap, builds loyalty, reduces turn-over rates, and helps increase productivity, according to Dr. Rebecca Lake, Dean of Workforce and Economic Development at Harper College. It works particularly well, Lake points out, when an employee who is nearing retirement is assigned as a mentor to an apprentice. The two-to-three-year timeframe of an apprenticeship allows that important knowledge transfer to take place before the older employee is lost to retirement.
http://mtwc.org/wp-content/uploads/2016/09/Harper1.png
373
700
Kerri Phillips
http://mtwc.engr.wisc.edu/wp-content/uploads/2016/11/MTWC-Website-Header-Logo.png
Kerri Phillips
2016-10-25 17:41:38
2016-10-25 17:41:38
Community College Sponsored Apprenticeships Fill the Talent Pipeline without all the Paperwork